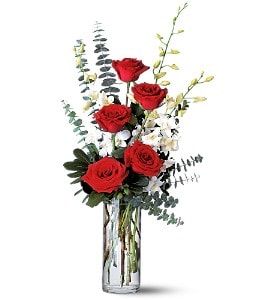 Flower Delivery Houston Texas
Wildflower Florist & Cypress Floral delivers flowers to Houston, Texas every day. We also deliver to all Houston hospitals, churches and funeral homes.
About Houston TX
Houston, Texas, has a population of 2.2 million and is the fourth largest city in the United States and the largest in Texas. It is the seat of Harris County and serves as the economic center of the Houston-Sugar Land-Bayton metro area.
City of Houston
Houston Texas Wikipedia
Yelp Active Life in Houston
Houston's History
In August 1836, John Kirby Allen and Augustus Chapman Allen, two real estate entrepreneurs from New York City, purchased 6,642 acres of land along Buffalo Bayou with the intent of founding a city. The Allen brothers decided to name the city after Sam Houston, the popular army general and the then-President of Republic of Texas, and Houston was officially incorporated in 1837. In 1901, thanks to the discovery of oil in the area and the building of a port and railroad, the population of Houston began to expand very rapidly. Later population surges were due to the building of the NASA Johnson Space Center and the Texas Medical Center, among other large employers.
Florist in Houston TX
Wildflower Florist has been proudly serving the Houston, Texas, areas for 30 years. We are committed to offering only the finest floral arrangements and gifts, backed by service that is friendly and prompt. Because all of our customers are important, our professional staff is dedicated to making your experience a pleasant one. That is why we always go the extra mile to make your floral gift perfect.
"Let Wildflower Florist be your first choice for flowers."
Flower Delivery to all Houston Area Hospitals:
St Joseph Medical Center
1401 St Joseph Pkwy
Houston, TX 77002
(713) 757-1000
Dubuis Hospital of Houston
1919 La Branch St #7
Houston, TX 77002
(713) 756-8660
Triumph Hospital of Central Houston
105 Drew St
Houston, TX 77006
(713) 529-8922
Riverside General Hospital
2905 Elgin St
Houston, TX 77004
(713) 521-9952
Plaza Specialty Hospital
1300 Binz St
Houston, TX 77004
(713) 285-1000
Park Plaza Hospital
1313 Hermann Dr
Houston, TX 77004
(713) 527-5000
Apex Hospital
2001 Hermann Dr
Houston, TX 77004
(281) 921-5300
Quentin Mease Community Hospital
3601 N Macgregor Way
Houston, TX 77004
(713) 873-3700
Select Specialty Hospital
1917 Ashland St
Houston, TX 77008
(713) 861-6161
Ben Taub General Hospital
1504 Taub Loop
Houston, TX 77030
(713) 873-2000
Flowers Delivered to These Houston Churches
Christ Church Cathedral
1117 Texas St
Houston, TX 77002
(713) 222-2593
A E Robertson Ministries Inc
723 Main St
Houston, TX 77002
(713) 229-8333
Episcopal Diocese of Texas
1225 Texas St
Houston, TX 77002
(713) 225-8800
Holy Cross Catholic Chapel
905 Main St
Houston, TX 77002
(713) 650-1323
Pasadena Congregational Mthdst
603 Austin St
Houston, TX 77002
(713) 472-1845
Temple Jerusalem Asamblea-Dios
1106 Washington Ave
Houston, TX 77002
(713) 944-9003
Annunciation Catholic Church
1618 Texas St
Houston, TX 77003
(713) 222-2289
Trinity Lutheran Church
1316 Washington Ave
Houston, TX 77002
(713) 226-7967
St Joseph's Catholic Church
1505 Kane St
Houston, TX 77007
(713) 222-6193
First United Methodist Church
1320 Main St
Houston, TX 77002
(832) 668-1800
Sympathy & Funeral Flowers Delivered to these Houston TX Funeral Homes
Crespo Funeral Home
2516 Navigation Blvd
Houston, TX 77003
(713) 225-9567
Earthman Funeral Directors
2420 Fannin St
Houston, TX 77002
(713) 659-3000
Family Funeral Care
405 Bremond St
Houston, TX 77006
(713) 528-6088
Felix H Morales Funeral Home
2901 Canal St
Houston, TX 77003
(713) 223-1167
Sacred Hope Funeral Home
1505 Jensen Dr
Houston, TX 77020
(713) 223-3707
J Pruitt & Pruitt Funeral Home
2222 Dowling St
Houston, TX 77003
(713) 651-3119
Clay & Clay Funeral Home
3101 Lyons Ave
Houston, TX 77020
(713) 227-0714
Cristo Rey Funeral Home
235 N Sampson St
Houston, TX 77003
(713) 237-1777
Ross Mortuary
3618 Lyons Ave
Houston, TX 77020
(713) 223-8071
Hyde Park Funeral
1324 Hyde Park Blvd
Houston, TX 77006
(713) 526-1856